Photo Gallery: Page 13
Commonwealth Black Cats
The Americans pioneered and developed the concept and tactics of the Black Cat PBYs, but the idea was also taken up by our Allies in the Pacific who likewise flew the Catalina.


A Boeing-built Catalina (PB2B-2) Black Cat of No. 43 Squadron, Royal Australian Air Force.

Boeing PB2B-2, A24-358. Marking OX R identifies RAAF No. 43 Squadron.
(Source: Airpower magazine, November 1994)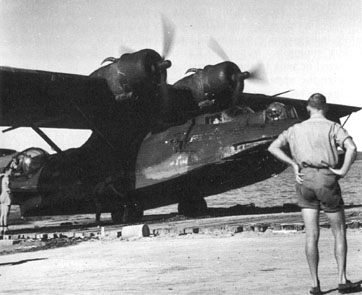 A Royal Australian Air Force Black Cat lumbers up the ramp on its beaching gear (landing gear attached to the outside hull of non-amphibians), having just returned from a "Milk Run" (the Aussie equivelant of a U.S. "Mike Search" patrol mission).
(Source: PBY: The Catalina Flying Boat by Roscoe Creed)

An RAAF station was formed at Rathmines Australia, on 14 August 1939. Besides being the largest wartime flying boat base in Australia, it was also a training and repair base and a key communications centre. This aerial view of the Rathmines base shows the base facilities and and number of seaplanes moored in rows along the bay.
(Source: submitted by Peter Routley)


RAAF Black Cat takes off from the bay near its base at Rathmines, Australia.
(Source: submitted by Peter Routley)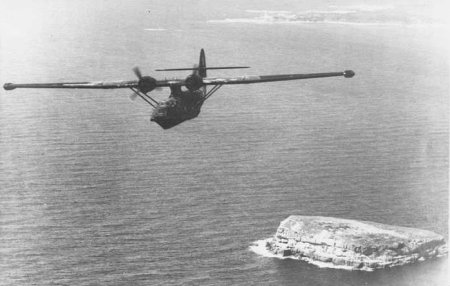 An RAAF Black Cat flys over Bird Island, which was used for target practice.
(Source: submitted by Peter Routley)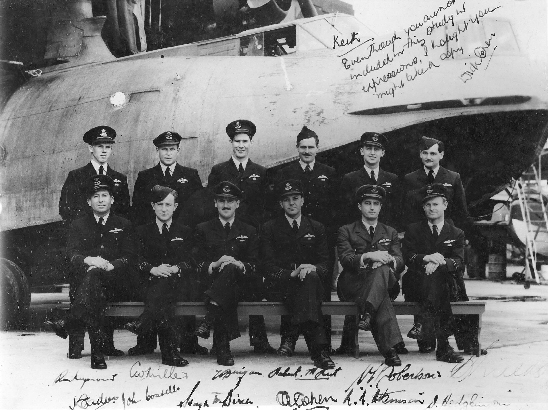 The Captains of RAAF No. 11 Squadron pose in front of an RAAF Catalina.
(Source: submitted by Barry Moss)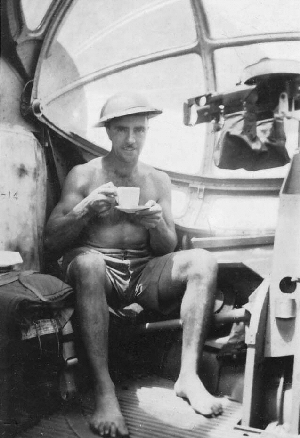 Albert Bates (an air gunner / radio operator, DFM, with RAAF No. 11 Squadron) has a spot of tea in the blister of his PBY #A24-1.
His personal story of RAAF Black Cat operations can be found here: http://members.iinet.net.au/~alexandergbiggs/Catalina.html
(Source: submitted by Barry Moss)
If you're looking for info on Commonwealth Black Cat squadrons, look for the book "Lake Boga At War" by Brett Freeman, and "Black Cats" compilied by A.E. Minty. The latter book was published by the RAAF Museum, and is strictly about Australian Black Cats. Both books are out of print, but there are a few copies (a literal handful) left (as of 9/29/00) at the RAAF Museum gift shop. Don't delay purchasing if you're interested. Mine arrived in the U.S. in about two weeks.
Contact the Museum shop HERE.

I hope to add more Commonwealth Black Cat material to this page at some point in the future. Check back once in awhile to see if I had the time to read the books and do the research for the new material.
Go to Photo Page
#1 - #2 - #3 - #4 - #5 - #6 - #7 - #8 - #9 - #10 - #11 - #12 - #13