Vultee P-66 Vanguard
---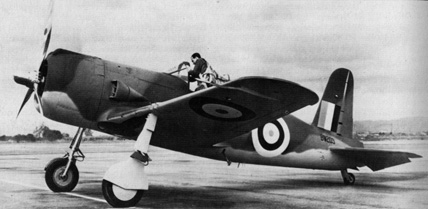 The Vanguard was designed to use common tooling and assemblies from other Vultee products then on the drawing board. The version that evolved into a fighter design was called the Model 48. It was flown in September 1939, but proved to require a redesign of the cowling, and the new version (known as the Model 48X) was first flown in February 1940. This version also incorporated a number of other enhancements, resulting in an order for 166 by Sweden in 1940. No examples were released to Sweden due to U.S. goverment restrictions, but eventually 129 of the Vanguards went to China under the Lend-Lease. The remainder were acquired by the USAAF under the designation P-66, the last being delivered in April 1942. The P-66 in USAAF hands were used in a training role only.
For more data on this aircraft, click here for Joe Baugher's webpage.
USAF archives on this aircraft, click here.
Additional information on this aircraft can be found at Wikipedia here.
(updated February 2009)

Vultee P-66 Vanguard

Type:           single-seat fighter
Crew:           1
Armament:       four 0.30 cal machine guns
                two 0.50 cal machine guns

Specifications:
        Length:         28' 5" (8.66 m)
        Height:         9' 5" (2.87 m)
        Wingspan:       36' 0" (10.97 m)
        Wing area:      197 sq. ft (18.30 sq. m)
        Empty Weight:   5235 lb (2375 kg)
        Max Weight:     7384 lb (3349 kg) max at takeoff

Propulsion:
        No. of Engines: 1
        Powerplant:     Pratt & Whitney R-1830-33 Twin Wasp radial
        Horsepower:     1200 hp

Performance:
        Range:          950 miles (1529 km)
        Cruise Speed:   290 mph ( 467 km/h) at 17,000 ft
        Max Speed:      340 mph ( 547 km/h) at 15,100 ft
        Ceiling:        28,200 ft (8595 m)


If this page does not have a navigational frame on the left, click HERE to see the rest of the website.