Douglas A-20 Havoc
also: P-70 Nighthawk night fighter,
French DB-7
---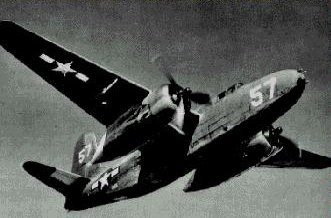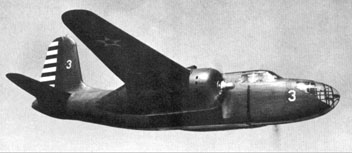 The Douglas A-20 Havoc light bomber was one of the most extensively built of the light bombers of WWII. It was used in a variety of roles, performing them well but without distinction. Initially configured with a standard bomber glass nose, some later versions had a solid nose containing multiple machine guns for use in low-level attacks. Some A-20s equipped with radar equipment were redesignated as P-70s and were used as night fighters until replaced in 1944 by the P-61 "Black Widow". The P-70 was given the name Nighthawk, though this name was rarely used. A further variation of the A-20 was the F-3A, which was the photo recon variant. The Havoc was known as the Boston Mark III to the British (who also used it in various theaters), and as the DB-7 to the French.
For more data on this aircraft, click here for Joe Baugher's webpage.
For the USAF Museum archives on A-20, click here.
For the USAF Museum archives on P-70, click here.
Additional information on this aircraft can be found at Wikipedia here.
(updated February 2009)
Douglas A-20 Havoc
Type:           Light Bomber
Crew:           three
Armament:       seven .50 cal machine guns
                up to 4000 lbs. of bombs

Specifications:
        Length:         47' 11" (14.6 m)
        Height:         17' 7" (5.36 m)
        Wingspan:       61' 4" (18.69 m)
        Wing area:      464 sq. ft (43.10 sq. m)
        Empty Weight:   16993 lb (7706 kg)
        Gross Weight:   24127 lb

Propulsion:
        No. of Engines: 2
        Powerplant:     Wright R-2600-23
        Horsepower:     1600 hp each

Performance:
        Range:          945 miles (1521 km)
        Cruise Speed:   256 mph ( 412 km/h)
        Max Speed:      317 mph ( 510 km/h)
        Ceiling:        23700 ft (7223.40 m)


If this page does not have a navigational frame on the left, click HERE to see the rest of the website.