PBY / Black Cat Videos
---
The first video contains a whole mini-movie on Black Cats, plus other movies.
Our Fighting Navy
A rousing 90 minutes of naval aerial swash-buckling, "Our Fighting Navy." Includes John Ford's classic Oscar winner record of Pearl Harbor; Ford's immortal documentary of the Battle of Midway; The Black Cats (Catalina PBY Night Bombers) - taking on Japanese Zeros and Heavy Cruisers against overwhelming odds; and "Carrier Action-Korea" aboard the Valley Forge off Korea, with aerial action, Corsairs and AD Sky-raiders sharing scrap with F9F Panther Jets against enemy Migs, and rare footage of torpedo attacks on North Korean dams.
Click HERE to go to the "Our Fighting Navy" item page on Amazon.com
---
The following video was the first PBY video that I found, but it contains very little Black Cat material. Still, if you have to have all of the PBY videos out there on the market, here's another one for you.....
"PBY: World War II Operations"
The following is an advertisement for Traditions Video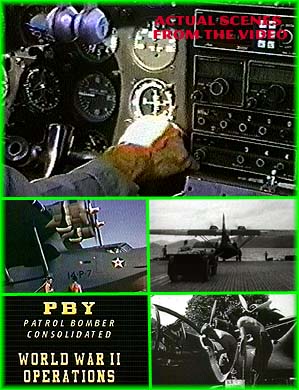 Historic Video

"PBY: World War II Operations", review by M.R. Vezina, MA History

This video was produced with the cooperation of the PBY Catalina International Association, the San Diego Aerospace Museum and The National Wartime Museum, Elmira/Corning NY. The video covers the many roles the PBY played during WWII.. Built during WW II by Consolidated Aircraft Corp., it was known as the PBY Catalina. Includes rare historic film footage from the National Archives in Washington, D.C. and photographs of the PBY, as well as interviews with pilots and crewmen. Topics covered in the video include: PBY bombing and rescue missions, beaching operations and the Black Cat Squadrons. Film clips include PBY operations in the Pacific as well as footage taken at bases in Pensacola, FL, and San Diego, CA.
This is a new video, produced from an original 16mm film print at high quality SP (standard play). Total running time is 60 minutes. This video will play in all standard VCRs. (The video is also available in PAL for use in European VCRs).
©Traditions Military Videos.


Click here to visit the Traditions Video page for this video
Click here to visit the Traditions Video main website to check out their other quality military videos

---