Black Cat PBY Flight Sims

For those of you interested in computer flight sims, you might want to check out Microsoft's "Combat Flight Simulator 2, WWII Pacific Theater" (otherwise known as CFS2). You can find out more about the game here.
(Thanks to visitor David Needham for sending me info on this.)
CFS2 is open-ended, meaning that it accepts new planes, scenarios, and other add-ons done by third-party developers. The reason I bring this up is that there are now add-ons for CFS2 that allow you to fly a Black Cat PBY. Here are the files I know of so far:
CFS2 Consolidated PBY-5A VP-54, "Black Cats" (file name: PBY5a2k.zip) - This is a new PBY model for the game, wearing the black skin of a Black Cat. (This file was found on this webpage.) Two screenshots using this modification are below.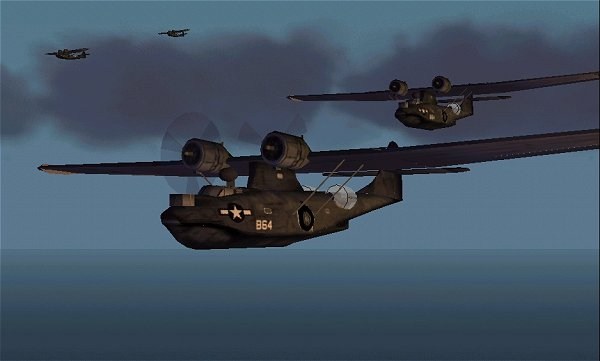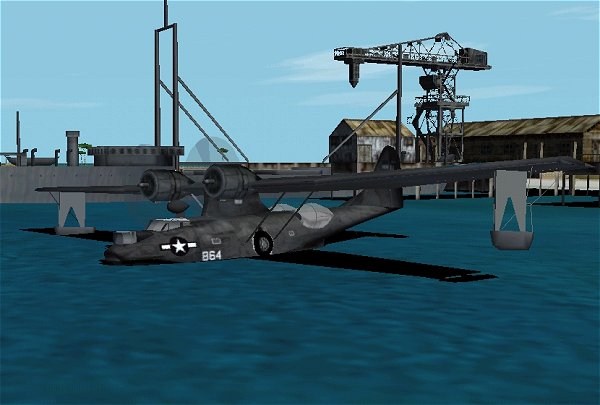 The next file is a modification of the above file that gives the Black Cat PBY model external stores (bombs, torpedos, etc.). It is called "BlackcatDP20.zip" and can be found here (accompanying text file is here).
Normally CFS2 game does not allow external stores on its aircraft. To fix this, there is a utility called "MDLPATCHW" which modifies the program to allow external stores. The "blackcatDP20" file listed previously requires the MDLPATCHW utility, which can be found on this webpage here.
Abacus has come out with a PBY add-on for CFS2, which seems to have excellent graphics and features, though not Black Cat in nature. So if you're interested in non-Black Cat add-ons, look here.
Finally, you can take the above aircraft and fly it in custom-made scenarios in CFS2. Unfortunately, I only know of one Black Cat scenario that has been designed for CFS2 (so far). If you know of such scenarios, please let me know! Or, if you're familiar with the scenario editor in CFS2, design some scenarios involving Black Cat missions, and I'll post them here. (I make no guarantees on these missions; contact the creator for comments/questions):
VP-101 mission by WFGood@aol.com